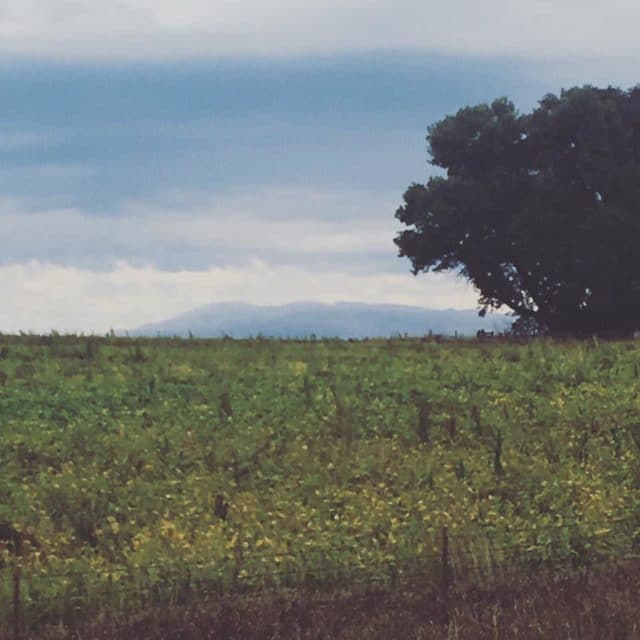 the one thing we'll never outgrow
I was having a downer kind of day. Nothing major. (Sometimes it's the little things, all adding up, that manage to bring you down.)
I knew what to do with that kind of day. I drove to church to talk to my pastor. She's a gem of a mentor, and has this habit of helping me re-remember the stuff about Jesus that I re-forget.
We attend a church that's tucked between cornfields and fences, about a mile from home. So it only takes me about a minute and a half to get there.
While driving to the church, I turned my eyes to see the most incredible view on the horizon. I stopped right in the middle of the highway to take a picture. (Don't worry; not a single other car was in sight. This is rural Iowa, where a traffic jam would typically involve a roaming herd of cattle or a family of raccoons.)
Here's the view I saw, while stopped at the side of the road:

What I saw took my breath away. Do you see what I see?
It looks like a mountain in the distance, but clearly, we don't have mountains in Iowa. What I was actually seeing was a long, low cloud.  Still, my eyes saw a mountain. I felt like God sent me a mountain that day, like the mountains had come for a short visit.
In that moment, God was already helping me re-remember what I re-forgot:
"I lift up my eyes to the mountains—
where does my help come from?
My help comes from the Lord,
the Maker of heaven and earth."
(Psalm 121:1-2)
What mountains stand before you today? Maybe those mountains are in the shape of the obstacles looming before you. Or, perhaps those mountains look like a good place to hide, in the cleft of a rock.
That day, the "mountains" I saw reminded me of God's provision. The "mountains" reminded me that the Maker of heaven, and earth, and mountains, and valleys, and trees, and fields, and country churches … is also the Maker of me.
In my NIV study Bible, I once highlighted the study notes underneath those verses from Psalm 121:1-2. Today, I re-read the highlighted words. Read along: "[God] not only made the hills but heaven and earth as well. We should never trust a lesser power than God himself. But not only is he all-powerful, he also watches over us. Nothing diverts or deters him. We are safe. We never outgrow our need for God's untiring watch over our lives."
We

never

outgrow our need for Jesus. 
Where are your mountains today? Run to them…
May they be a reminder that God stands at the ready. Where does our help come from? It comes from the Lord, maker of heaven and earth.
YOUR TURN:
What are your mountains today? Do they look like obstacles, a place to hide, or a reminder of God's power and majesty? Let's encourage one another in the comments.
#TellHisStory
Hey Tell His Story crew! It is a joy to gather here every week with you. The linkup goes live each Tuesday at 4 p.m. (CT). If you would use the badge on your blog, found here, that would be great! And if you would visit at least one other blogger in the link-up and encourage them with a comment, that would be beautiful! Be sure to check the sidebar later. I'll be featuring one of you over there!
Our featured writer this week is Bev Rihtarchik. She's a fellow contributor for A Moment to Breathe. I loved her post announcing the book and appreciate the always-needed reminder that we're better together. Find Bev here.
To be considered as our featured writer, be sure to use our badge or a link to my blog from your post. xo Jennifer