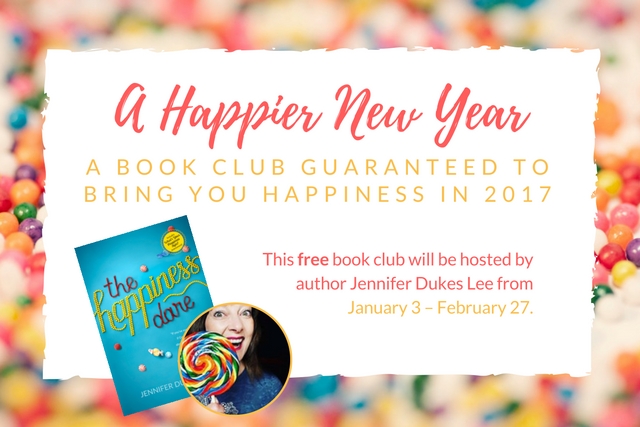 Join our FREE Book Club & Make 2017 the Happiest Year Yet – #tellhisstory
A few weeks ago, I was sitting in my living room thinking about the past year. 2016 was a mix of trial and blessing, and I'll bet yours was too.
But even with some really rough patches, 2016 was probably one of my happiest years yet. Why? Because I was intentional about happiness. I came to understand that God cared about my happiness. And because happiness was permissible by God, it was also possible through Him. Even on my hardest days, I had come to know that my happiness was also recoverable.
2016 was the year when I stopped sleepwalking through my life. I sat up to pay attention, to savor the life that God had given to me. I thanked Him for the good when life was beautiful. And I fought hard to find the happy when life was brutal.
An Invitation for the New Year
2017 is just around the corner. As I was sitting in my living room, I thought about all of you.
"What if," I wondered, "we could work together to make 2017 the happiest year yet? And even if it's not our happiest year, what if we could make it a little bit HAPPIER than the one before? Wouldn't that be worth it?"
The answer is yes!
So for the last several weeks, I have been putting together something special for us.
Watch this video:
(Email subscribers might need to click here to watch the video)
#HappierNewYear
Do you want to make 2017 your happiest new year yet? Join us in this brand new book club to explore what it means to live as your happiest, most faith-filled self.
This free book club will be hosted by yours truly! We'll start January 3 with assigned readings, group discussions, an interactive journal experience, and more.
In the #HappierNewYear book club, we will:
– read through The Happiness Dare together
– encourage one another as we equip ourselves for a "Happier New Year."
– engage in weekly live chats with Jennifer
– receive a free journal download
– take a quiz to discover what truly makes us happy
– take practical weekly "dares" to live a happier life
– overcome the four biggest obstacles that stand in the way of happiness
– stop wishing for someone else's life — and discover happiness in the one we have
What You'll Need For The Study
A Facebook account:
We'll host all the discussions in a private Facebook group. You can access the Facebook group by clicking here.
The book:
If you don't already have the book, you can buy The Happiness Dare from your favorite retailer. Right now, it's priced very low on Amazon — $9.02! Click here to find online book retailers. Or ask if your local bookstore carries The Happiness Dare.
Invite Your Friends
Invite your friends, sisters, hairdressers, teachers, neighbors, veterinarians, daughter-in-law, babysitters, dentists, Bible study partners, taxi drivers, and grocery clerks. All are welcome! The more the merrier.
You can share this post, or share the image below on Facebook, Instagram and Pinterest.
Take The Dare!
We live in an age of cynicism, you know. And it's tempting to join the chorus of negativity. The cynics will tell us that we're being naive and silly when we talk about stalking happiness. But positive thinking and happiness are not signs of weakness. They are signs of our strength. Sometimes being joyful and grateful are the hardest, strongest things we can do in hard times. Happiness can change the world, but first it has to change us. We can't give to the world what we don't already have.
There's happiness right where we are. God is daring us to stalk it. Sometimes it shows up small. But it's important that we look, because some days the looking will save us.
Let's do this. Let's frighten the critics and baffle the cynics. Be like Jesus.
Take the dare.
Find the Facebook Group here to begin the journey toward #HappierNewYear.
#TellHisStory
Hey Tell His Story crew! It is a joy to gather here every week with you. The linkup goes live each Tuesday at 4 p.m. (CT). If you would use the badge on your blog, found here, that would be great! And if you would visit at least one other blogger in the link-up and encourage them with a comment, that would be beautiful! Be sure to check the sidebar later. I'll be featuring one of you over there!
Our featured writer this week is Ally V. If this season is a hard one for you (or if you feel like you're all alone), I highly encourage you to read Ally's words. They will be a comfort! "You may feel like you're expected to somehow pull together the perfect holiday, the perfect party, or present the perfect family. But with Jesus, we don't have to hide who we really are. He knows already, and he understands." Find Ally here.
To be considered as our featured writer, be sure to use our badge or a link to my blog from your post. xo Jennifer