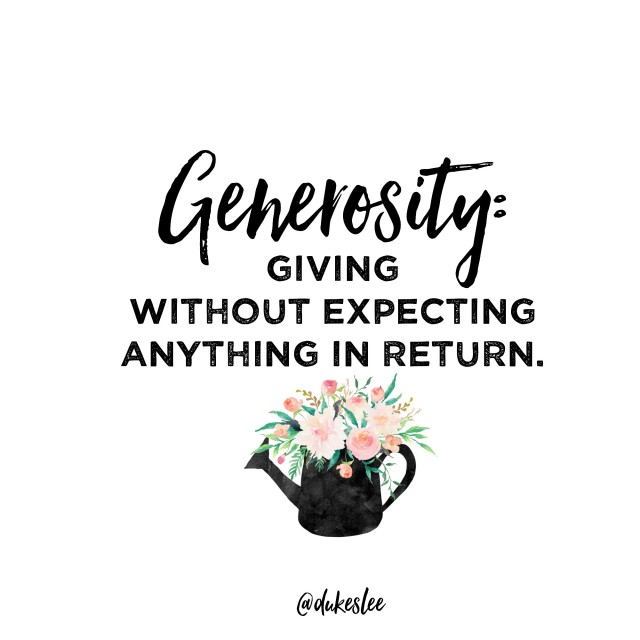 how to give generously when they can't pay you back – #TellHisStory
I opened the laptop one morning last week, and sat at the computer, with the cursor blinking. I had so much to say in the email I was about to write. The word "thanks" seemed so small.
But that's all I had to offer her. So I started typing.
A few minutes later, I sent my email to a woman named Crystal Paine. She's also known as the Money Saving Mom. Her blog gets millions of pageviews a month. She operates one of the most well-known money-saving blogs in the country, and she is a New York Times bestselling author. But according to Crystal, none of that matters more than this: "I'm first and foremost a child of God."
(That last statement probably sums up the motivation behind her actions toward me.)
O.K. The story.
About two months ago, I took what I considered a long-shot move and asked Crystal if she'd consider endorsing my latest book, The Happiness Dare. I knew Crystal. And I knew that she was an active seeker of joy, a chooser of happiness, and a woman who was interested in wringing delight out of ordinary days.
But I also knew she was incredibly busy.
A day later, she gave me the unlikely yes. She would read my book and consider offering an endorsement!
That "yes" alone would have been generous enough. But then she went out of her way to tell her gazillion readers about The Happiness Dare. She actively took the dare, and started posting snapshots of happiness on Instagram.
She had loaned her enormous platform to me, without an expectation of getting anything in return.
Here's why I'm telling you this story:
Crystal demonstrates a rare virtue. She gave because she felt like it – not because she had to, or because she was looking to get a payback.
Crystal shows us what it means to live life without being a quid pro quo person.
Quid pro quo is a Latin phrase that means "something for something" or "this for that."
Unfortunately, our world is filled with quid pro quo people. And that includes, sadly, people in Christian publishing. I don't think anyone intends it that way. But it can feel like that. It can feel a little bit like, "If I share your blog post, will you share mine?" "If I share your book on Twitter, will you share mine?" "If I offer you an endorsement, will you give me one, too?"
Yuck.
Now look — I don't want anyone on the other side of these words to think that Christian authors and publishers are a bunch of slimy salesmen. But we also have the very REAL pressures of getting our word out there by relying on our connections. There really are expectations that our books actually sell because they cost actual money to produce. Christian publishing is a business.
But there are moments, like I had with Crystal, where you know that first and foremost, we are still in this for Jesus.
Crystal believed in my message, so she shared it. Period.
How do I know? Because it wouldn't have taken Crystal more than one minute online to see that my following is pint-sized compared to hers. In terms of a trade, I didn't have a lot to offer. I could share her Facebook posts and books every day for the next year, and still not be able to repay her.
Crystal isn't a quid pro quo person. She saw value in what I had given her — a message about happiness, a message that I hope will be life-changing for many. And because she's a generous person, she shared — no strings attached.
What does this mean for the rest of us?
Today, maybe you are in a position where you can give without expecting anything in return. Maybe it's in your office, where you are a few links higher on the chain of command, and a rookie could use a little encouragement. Maybe it's at your mom's group, where the newbie just wants an invitation to the table. Maybe you're a big-time author, who has the unique opportunity to help someone a few steps behind.
This is what true generosity is: Giving without expecting anything in return.
7 Ways to Avoid Becoming a Quid Pro Quo Person
1 – Give without expecting anything in return. Do a favor, spread the word, share a blog post because you care, not because of what will come back to you. " … do good, and lend, expecting nothing in return" (Luke 6:35). Generosity that expects something in return isn't generosity. That's called a trade.
2 – Don't wait for someone to do something for you. This is what it means to give from the heart, not for the trade.
3 – Find what you believe in, and support that. Look, you can't say yes to everybody. The fact is, a lot of people could use your help, your voice, or your support. Every week, I get several books in the mail from authors hoping that I will share about them here on the blog. I love a lot of books, and I share many of them. But there are many books that I actually love, but DON'T share. Like Emily Freeman of Hope*Writers wisely counseled: "If you're not careful, you'll be sharing other people's stuff all the time and forget what it means to create your own stuff. You can't champion everything and that's okay."
4 – Realize that others have limits too. Today, I have three new emails in my inbox from three different writers asking for 1) an endorsement 2) advice on how to write a book 3) a request to read an opening chapter. I simply don't have the bandwidth to give 100 percent to all of those people. I want to be generous, but I have to be realistic with my generosity. And I have to remember that other people have limits too when I ask them for help.
5 – Baffle the cynics. We live in a quid pro quo world, but you don't have to be a quid pro quo person. You'll baffle the cynics when you go out of your way to do something kind for someone else, simply because you believe in them.
6 – Consult Scripture on how to be generous. "Here is a simple rule of thumb for behavior: Ask yourself what you want people to do for you; then grab the initiative and do it for them! If you only love the lovable, do you expect a pat on the back? Run-of-the-mill sinners do that. If you only help those who help you, do you expect a medal? Garden-variety sinners do that. If you only give for what you hope to get out of it, do you think that's charity? The stingiest of pawnbrokers does that." (Luke 6:31-34, The Message).
7 – Say thanks. If someone does share her influence, her table, her platform, or her voice, be sure to let them know how much you appreciated it!
Related Resources:
Here's our latest dare. Snap a photo. Include #TheHappinessDare. Dare to share …
Happiness you found in a surprising place.
Happiness you found on a hard day.
Happiness you had to look hard to find.
Happiness that found YOU!
Preorder The Happiness Dare
on Amazon,
on Barnes & Noble,
on Christianbook.com.
Releases August 2, 2016.
#TellHisStory
Hey Tell His Story crew! It is a joy to gather here every week with you. The linkup goes live each Tuesday at 4 p.m. (CT). If you would use the badge on your blog, found here, that would be great! And if you would visit at least one other blogger in the link-up and encourage them with a comment, that would be beautiful! Be sure to check the sidebar later. I'll be featuring one of you over there! Our featured writer this week is Meghan Weyerbacher. I appreciated Meghan's honesty and encouragement about *not* listening to the excuses that show up when we sit down to write online. Find Meghan here. To be considered as our featured writer, be sure to use our badge or a link to my blog from your post. 🙂 xo Jennifer