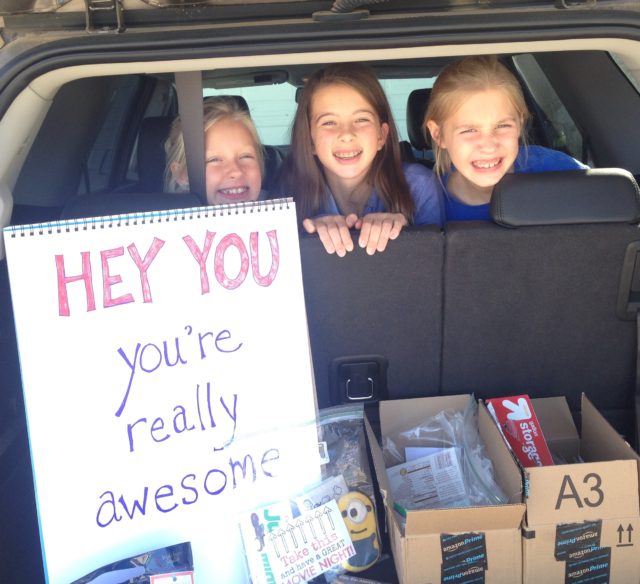 How To Find a Way Out of Your Darkest Dark
The year I chased after happiness more than ever before, was — in many ways — a year of yuck. It was beset by sickness, loss, doubt, second-guessing, loneliness, and more. That is just weird, isn't it?
Yet my author-friends had warned me about this. They said that sometimes, when you're writing a book, you'll find that you are often called to wrestle with the very things you are writing about. (With a new awareness of this probability, I've decided that my next book will address the quality of beach sand in Maui versus the quality of beach sand in Tahiti. Yes, I am willing to suffer for Jesus in an attempt to determine which beaches are best.)
I digress. Now, back to my happiness struggle.
During my research for The Happiness Dare, I had read study after study that drew the same conclusion: When we give to and serve others, we are on a fast track to happiness. Those studies said that one surefire way to be happy was to seek to make others happy.
If that were true, could one way out of my darkest dark, be to give more freely and generously than ever before?
I decided to test that theory for myself. I recruited a friend, along with our children, to embark on a day where we would commit Random Acts of Kindness.
We delivered banana bread to construction workers, took cookies to an elderly couple, left gifts on the front steps of homes where people were going through hard times. We held doors open, practiced the ministry of a smile, and held a gigantic sign at the corner of a busy intersection with the words: "Hey, you! You're really awesome!"
My happiness was off the charts that day. For a few hours, I forgot about my personal pain, and focused on being a light in the midst of others' darkness. If just for an afternoon, I forgot about all that had been weighing me down.
A highlight for me came when we delivered flowers and a greeting card to the women's drug-and-alcohol rehab center. I still remember the words on the card: "You're braver than you know." And I still remember how I teared up when, after delivering the flowers, one woman hugged me so long and with such love that I forgot that the world could sometimes be a pretty awful place. She spoke these words: "I can't believe that someone cares about us."
I tell some of those stories in the book, and today, I am sharing a few pictures from that day:
Why Giving Works
Giving makes a difference when it comes to happiness. Here's why: When we give, we reward our brains.
Giving actually creates a hormonal reaction that elevates our moods and causes us to feel happy. One study shows that people who give to charity are 43 percent more likely than nongivers to describe themselves as very happy people. Givers actually experience a mild form of euphoria, which psychologists deem "the helper's high."
Secular scientists have begun to affirm what Jesus has been telling us all along: "It is more blessed to give than to receive." In the original Greek, the word we often translate as blessed is "makarios," the Greek word for happy. When we give, we are blessed. And according to God's Word, we'll be far happier too.
Giving is countercultural because it puts us second. But Givers prove to the rest of us how the prevailing me-first attitudes about happiness are completely off the mark. When we are dwelling in the sweet spot of happy giving, we put others first.
I probably won't be able to spend a whole day committing Random Acts of Kindness every time I am having a hard day. But what I learned is this: there's always, always, always some way that I can give a little love to someone who needs to know they matter.
Do you want to exponentially boost your happiness today? Give. Give with a cheerful heart. Give with your pocketbook or your time, your compassion or your prayers. It doesn't matter how you give. But if you do, God says you will have a 100 percent guaranteed return of happiness, depositing goodness into your own life.
Spread some happiness today with one of these Random Acts of Kindness. You'll make someone's day, and you'll be happy too.
Learn More In The Happiness Dare
To learn more about the happiness-inducing act of giving (and to read more about this story of giving!) check out pages 145-148 in my latest book, The Happiness Dare.
A Simple Trick to Make Your Week Happier
While you're here, let me share with you a simple trick to make your week happier. The Belong Tour invited me to share this simple tip with their fans earlier this week, but I also want to share it with you! (Email subscribers might need to click here to see the video.)
#TellHisStory
Hey Tell His Story crew! It is a joy to gather here every week with you. The linkup goes live each Tuesday at 4 p.m. (CT). If you would use the badge on your blog, found here, that would be great! And if you would visit at least one other blogger in the link-up and encourage them with a comment, that would be beautiful! Be sure to check the sidebar later. I'll be featuring one of you over there!
Our featured writer this week is Kylie Howell. If you're thinking about Valentine's Day already but you're struggling to believe that you're truly loved, Kylie's words are for you this week! "We're the beloved not in spite of who we are, but because of who we are." Find Kylie here.
To be considered as our featured writer, be sure to use our badge or a link to my blog from your post. xo Jennifer
post contains affiliate link