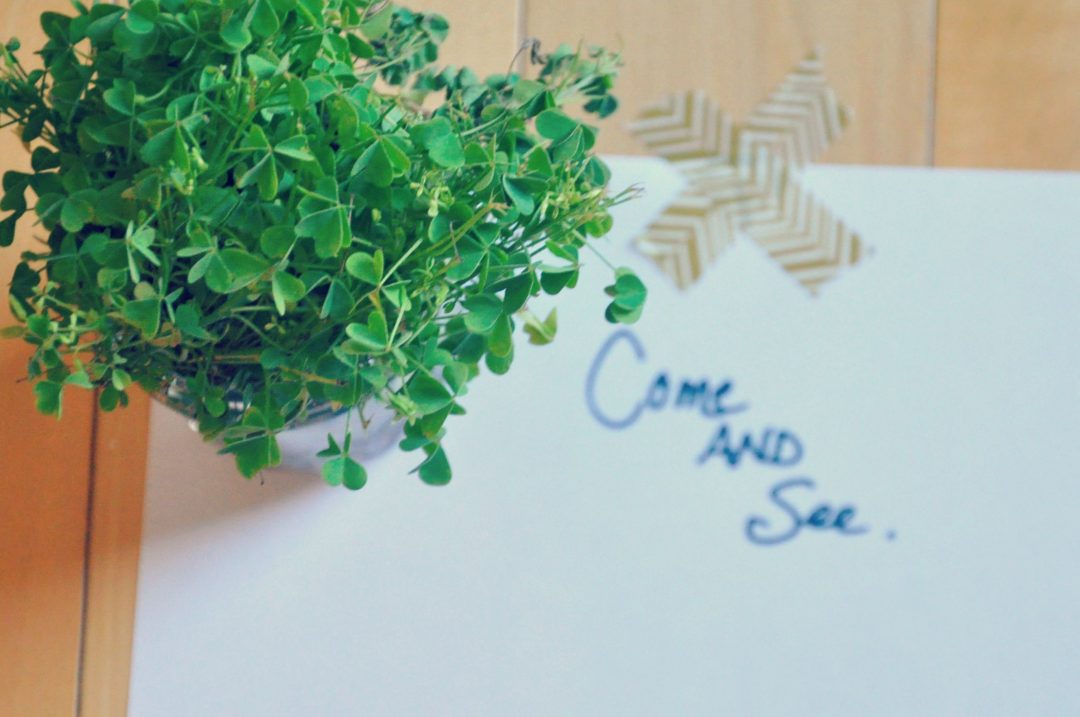 Come and See — #TellHisStory (With a Book & DVD Giveaway!)
They still ask me to come and see.
Every time they build a new Minecraft village with cobblestone, wooden planks and iron ore.
Every time they make some new craft out of popsicle sticks and too much glitter.
Every time they pluck fist-fulls of clover and ask for a vase.
"Mom," they say, with high-pitched voices and saucer eyes, wide with wonder. "You've got to see this. Come and see!" Every time they have rearranged their rooms. "Come and see."
Every time they have built a fort, drawn a picture of a kangaroo or a clown, made some Lego suburb on the basement carpet, found some gigantic bug trapped in the dust bunnies under their beds. "Come and see!"
And oh my stars, it always happens when we're in the middle of some household chaos, right? We're on the phone with that one call we've been waiting all day for. Meanwhile, we're tripping over the Everest pile of laundry in the bedroom on our way to race for the boiling pot of water that is bubbling over the sides.
But they want us to come and see. So we go.
Because we know how fast the years are going, right? I want to push pause on my life. I see it in the mirror, and on their growth charts, and on the math worksheets that are just a little bit over their mama's skill-set. It's going so fast. So when they say come and see, I do my best to give these girls my best. My worst fear would be not really living the life I'd been given. My worst fear is missing it.
I have vowed to let love drive my schedule, … to come and see. The tragedy would be allowing years to disappear in a fog of disappointment or drudgery, with no way to recover the beauty — which was always present, but passed by, unnoticed. "Come and see," they say. And I try. My best intentions to let love rule my calendar don't always win. But I do try. There's more. Just last night, one of the girls showed up bedside, after midnight. Anxious thoughts wouldn't stop running laps in her mind. I was into deep REM, but I blurred awake, because my girl invited me into that tender place.
"Come and see, Mom," she seemed to be saying. "Come and see what keeps me awake at night."
I don't know how long they'll let me in, how long they'll invite me to see their latest hot-glued wonder — or how long they'll invite me to walk with them, straight into their deepest hurts. But I want to pay attention, to love well, to lay down my own agenda, and to make daily decisions that match up with my beliefs and my creeds. It starts right where I am, with my people. I want to come and see, and I want them to know that I have come to see because I love them — but also because Jesus loves them.
I want my schedule ruled by love, not by personal agendas.
This is what I know for sure. We all long for a parent who sees us, who responds to our deepest joys, and our greatest disappointments. We all long for a Savior who does the same. 
Just this morning, I was re-reading portions of Joanna Weaver's newest book Lazarus Awakening. Have you read it? Her book often brought tears of revelation to my eyes when I read it several weeks ago. In the book, Joanna unpacks the story of Lazarus, who had died while Jesus was away. "Where have you laid him?" Jesus asked Martha and Mary. (John 11:34) They respond: Come and see, Lord.  
Come and see.
They are sisters, coming to Jesus, expectantly — just as my daughters come to me. And though — to Mary and Martha — Jesus was tragically late, He came, and He saw.
Though it seemed as if He tarried, love ruled his schedule.
Joanna writes:
"Where have you laid your pain? Jesus asks us tenderly. Where do you keep all your shattered hopes and dreams? Where have you laid the part of you that died when you failed or were abandoned, forgotten, betrayed? Where are you entombed and enslaved, hemmed in, shut down, and closed off?
Come and see, Lord.
That's the only response we need to give. Come and see.
With the invitation, Jesus steps down into our pain and gathers us in His arms. …
We can be bold—even desperate like Mary and Martha—as we pour out of fear and disappointment before Him. "Come and see, Lord," we can say, knowing with full assurance that He will come and He will see.
Dear Lord, Thank you for being a parent who responds when we call: Come and see. Thank you for showing up just on time — Your time. Thank you for letting love rule your schedule. Help me to live like that. Help me to respond to my girls and my neighbors and strangers in need when they call to me: "come and see." And help me to never be too proud to invite You into my joy and my hurt. Come and see, Lord. Come and see. Amen.
A Giveaway (Book and Bible Study DVD)
You may remember Joanna Weaver as the best-selling author of Having a Mary Heart in a Martha World, which has sold more than one million copies. Today Joanna is giving away her latest book, Lazarus Awakening, along with the DVD companion for Bible study! Filmed in the Holy Land, this DVD companion to Joanna Weaver's book Lazarus Awakening explores the incredible truth that Jesus loves us apart from our works or our worthiness. He wants to call us out of our tombs and into friendship with Him. To enter the giveaway, fill out the Rafflecopter below. The winner will be notified by email this weekend. (Email subscribers: click here to enter.)
#TellHisStory
Hey Tell His Story crew! It's always a joy to gather here every week. The linkup goes live each Tuesday at 4 p.m. (CT). If you would use the badge on your blog, found here, that would be great. And if you would visit at least one other blogger in the link-up and encourage them with a comment, that would be beautiful! Be sure to check the sidebar later. I'll be featuring one of you over there! Our featured writer this week is sweet Tiffany, who blogs at Simply for One. Find Tiffany here. To be considered as our featured writer, be sure to use our badge or a link to my blog from your post. 🙂 xo Jennifer
post contains affiliate links