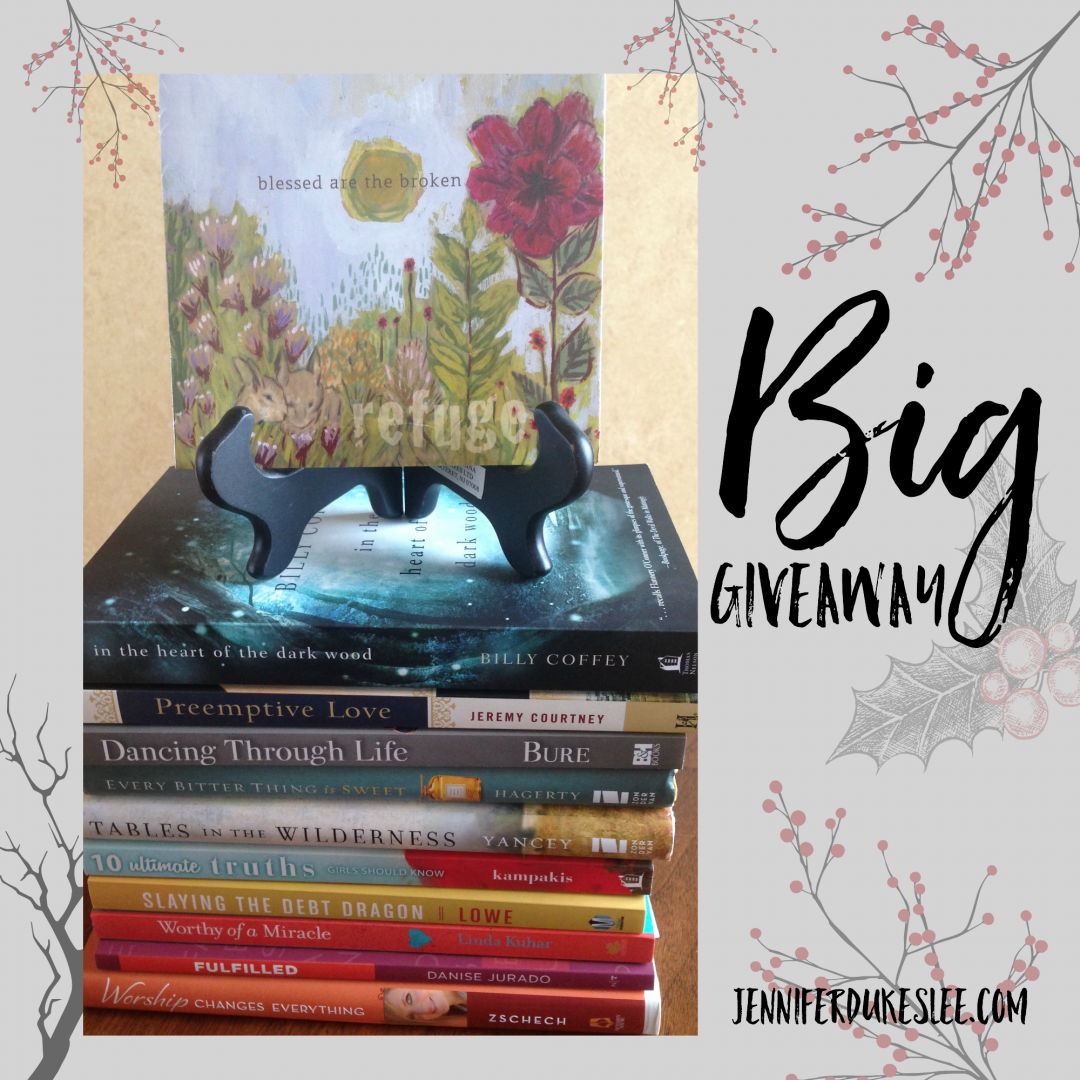 A Christmas Gift Guide + a HUGE giveaway!
My favorite way to Christmas shop is by firelight.
With a flip of the switch on my living room wall — thwock! — the fire is magically light. I plug in the tree, turn up some Osmond's Christmas (my all-time fave — the ultimate cheese-fest), pour a hot cup of tea, and power up the laptop.
Maybe you're like me, and you do your best shopping by wielding that computer mouse. Well, have a seat next to me. (See me patting my hand by the space on my couch.) I'm wearing my Hello Kitty jammies and the messiest ponytail ever. How about you? I brought a shopping list to get us started.
I'm so excited to share some great finds with you, to make your shopping easier. I'm also including a spectacular giveaway of 10 new books plus a CD! I will draw one lucky winner. It's my Christmas gift to one of you!
Let's get started, first with the gift guide. (Book giveaway details are at the end of the post.)
Live Loved: An Adult Coloring Book
By Margaret Feinberg
 Apparently, coloring isn't just for kids anymore. The girls are I loving this coloring book, a new release by my friend Margaret Feinberg. The book is a combination of artwork with Scripture, plus journaling pages. Buy the book here, and a packet of coloring pencils, for people who love to express themselves creatively!
Everlasting Light Necklace
By Dayspring
I love this necklace. It's a reminder to a shine in a dark world. I often wear it to speaking engagements. My daughters love it, too. Right now, this is only $10! (Reg. $50). That's a steal. Find the necklace here.
Christmas Bundle
A partnership of ViBella Jewelry & Jennifer Dukes Lee
I am so excited to share my new shop with you! Have you seen it, over here? The shop has a few of my favorite reads from my sisters on the (in)courage team, a print to remind your favorite people that they are preapproved, lots of jewelry and more. To celebrate the opening of the shop, I have put together a fantastic special for you.
Let the women in your life know that they are loved and preapproved by God this Christmas. You can purchase my book, Love Idol, and get this mirror pendant necklace at a special price. The necklace was custom-made by Vi Bella Jewelry artisans in Haiti. Your purchase will not only bless the women in your life, but it will help provide jobs for women in Haiti.
Get this bundle for only $36, a 15 percent savings. (Regular price: $42.50). Shop here.
(P.S. – I sell out of these necklaces at almost every speaking engagement!)
Crossbeams Building Systems 
By Crossbeams Toys
Ok. These toys are amazing. They are the invention of my dear friend, Monica Sharman, and her husband, and I've been dying to tell you about them! Crossbeams is "a building and prototyping system for advanced children and adults." The company has a unique and motivating mission founded on the Golden Rule. Check these out by clicking here! So cool.
Abide in Him Wall Decor
By Dayspring
I've purchased no fewer than five of these for friends and relatives over the last few years.  I also have one on my living room wall. Right now, this is only $20. (Reg. $45). Find the wall decor by clicking here.
The Inspired Room
by Melissa Michaels
This gorgeous book is for anyone who wants to forget about the rules and discover inspired ways to personalize her spaces and express her style with texture, color, and favorite treasures. I'm loving this book, by my friend Melissa Michaels. Find it by clicking here. (Photo by Melissa Michaels.)
Big 2015 Book Giveaway
One of the perks of being an author is that every week, books arrive on my doorstep from publishing companies and authors hoping to spread the word about their books. Often, they will send multiple copies. These are a few of the books that have arrived here over the last several months. I'd love to share them with you. The books are almost entirely nonfiction, with the exception of the one on the top of the stack. They are all brand new and will help you as you grow in faith. I'm also including a beautiful new CD from my new friend Natalie Wilson. She and her husband have a new CD entitled Refuge. Check it out here! 
To enter the Giveaway:
Simply share this post, on Twitter, or Facebook, or Pinterest, and let me know in the comments of this blog post where you've shared it. I'll enter your name for each entry, and will draw a winner on Monday! I'll ship the goodies to the lucky winner!
UPDATE: A WINNER HAS BEEN SELECTED AND NOTIFIED. Congratulations, Asheritah.
Happy shopping friends.
Q4U: I'm drinking Friendship Tea from Dayspring's (in)courage. What's in your cup?
Also, do you prefer online shopping, outlets, the mall, etc? 
post includes affiliate links