Hello new friend!
It is my hope that this e-book will help you live in the freedom you were made for.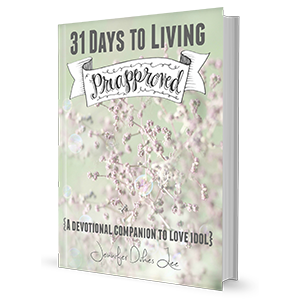 This 31-day devotional e-book is a companion to my first book Love Idol. Whether you have the book or not, I hope the devotional will be a kind reminder that you're already preapproved! Click here or on the button below to download the e-book.

(For help saving the e-book or journal and discussion guide, see below.)
As a subscriber, you will receive words of encouragement from me or or two times a week. You can also follow along on Facebook or Instagram.
Free free to drop me a line and introduce yourself. I'd love to get to know you a little better.
Living preapproved,
Jennifer
Some browsers will automatically download the e-book and journal + discussion guide to your computer, and others will open them in new browser windows. 
To save on your Mac:
Choose File > Save as and save the file in the folder where you'd like to keep it.
To save on your PC:
Right click on the page and choose Save As and save the file where you'd like to keep it.
To send to your Kindle:
Use one of the methods above to save the file on your computer, then attach it to an email addressed to your Send-to-Kindle email. (For help with Send-to-Kindle, click here.)