Not too long ago, I stood in the middle of my kitchen, on the verge of tears. Stress was gnawing at me. I had too many responsibilities, and not enough time.
Right then, the familiar lyrics of an upbeat song spilled through the radio. I turned up the song, and felt my stressed mood ebb away. I cranked up the radio louder, and for the next ten minutes, I lost myself in the songs that were playing.
I didn't think about my busy schedule. I didn't fret about my circumstances. For those few precious minutes, I simply sang along, channeling my inner rock star.
I'm so glad I did. Music made me take a break. Music made me smile. Music made me happy.
When I turned the radio back down, my circumstances hadn't changed. But I had.
Science tells us why.
Music can release dopamine inside of us. Dopamine is that feel-good neurotransmitter in our brain that's often referred to as the "happy chemical." Furthermore, a study from the University of Missouri says that listening to positive, upbeat music can help boost your mood, especially if you're listening with the goal of becoming happier. So, it's not just about the music; it's about intention.
Sometimes, happiness is a feeling. Sometimes, it's a choice.
Today, choose happiness. Sing a happy song.
The Ultimate Happy Playlist
Here are the top 40 happy songs that will get your toes tapping and your spirits soaring.

You can listen to this playlist on Spotify, but you'll need to download the free Spotify software or app to listen.
#TheHappinessDare
LEARN MORE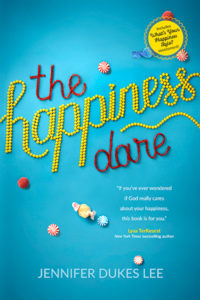 Do you want more five-minute happiness hacks like these? Check out pages 208, 224, 242, and 261 of The Happiness Dare. Jennifer shares many shortcuts to happiness that you can try every day, starting today.
BIBLICAL REFLECTION
"For you have been my help, and in the shadow of your wings I will sing for joy" (Psalms 63:7).
"Is anyone cheerful?  Let him sing praise" (James 5:13).
YOUR TURN
What songs make you happy?